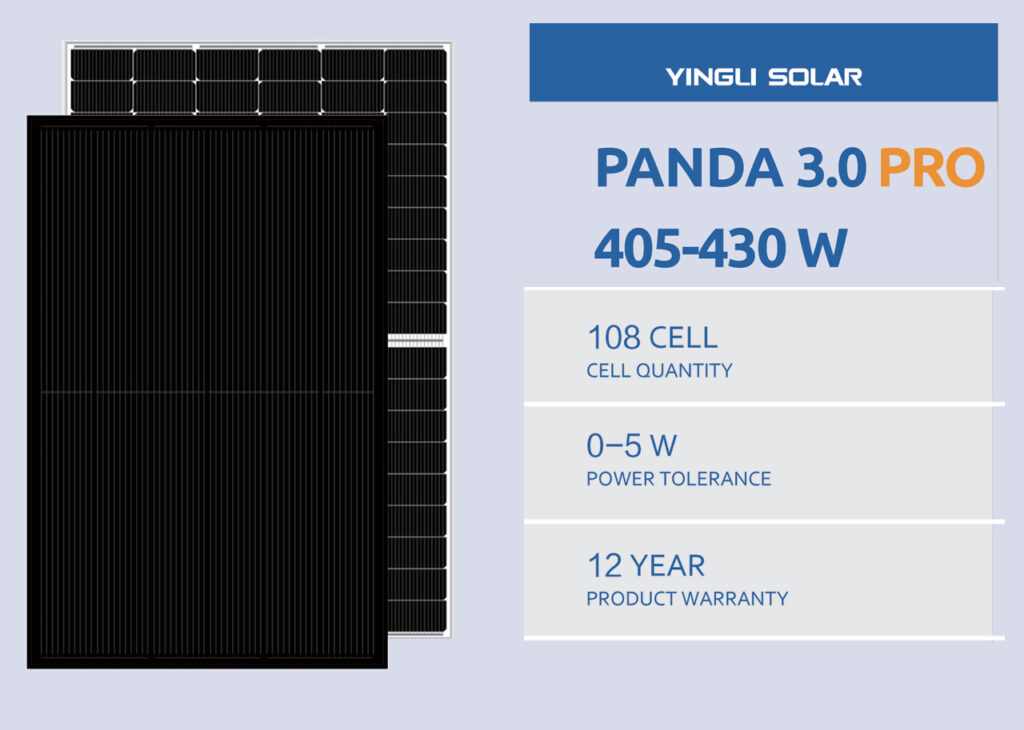 Boading, China located Yingli Energy Development Company Limited, popularly known as Yingli Solar, has launched new bifacial n-type TOPCon solar panel under its popular PANDA 3.0 series. According to the statement released by the company, the new module is ideal for rooftop applications.
Yingli Solar's PANDA 3.0 modules uses the industry's cutting-edge n-type monocrystalline TOPCon cell technology. With high quality encapsulation materials and classic glass-backsheet structure, PANDA 3.0 modules are perfectly suited to the harsh environment and provides with high reliability and quality assurance.
The 108-cell Panda 3.0 PRO modules are available in six versions, with power outputs ranging from 410 W to 435 W and efficiencies ranging from 21.0% to 22.28%. The open-circuit voltage is between 37.75 V and 38.69 V and the short-circuit current is between 13.91 A and 14.22 A. The maximum system voltage is 1,500 V.
The panels measure 1,722 mm x 1,134 mm x 30 mm and weigh 24.8 kg. They feature IP67 enclosures and 2 mm tempered glass. They have a temperature coefficient of -0.30% per degree Celsius and an operational temperature ranging from -40 C to 85 C.
The new products come with a 30-year linear power output guarantee and a 12-year product guarantee. The 30-year end power output is guaranteed to be no less than 87.4% of the nominal output power.
Yingli currently has a TOPCon cell capacity of 5 GW. It should reach 10 GW next year and 15 GW in 2024. In August, it unveiled a 156-cell Panda 3.0 PRO module with power outputs up to 615 W.
(Source: Yingli Solar)