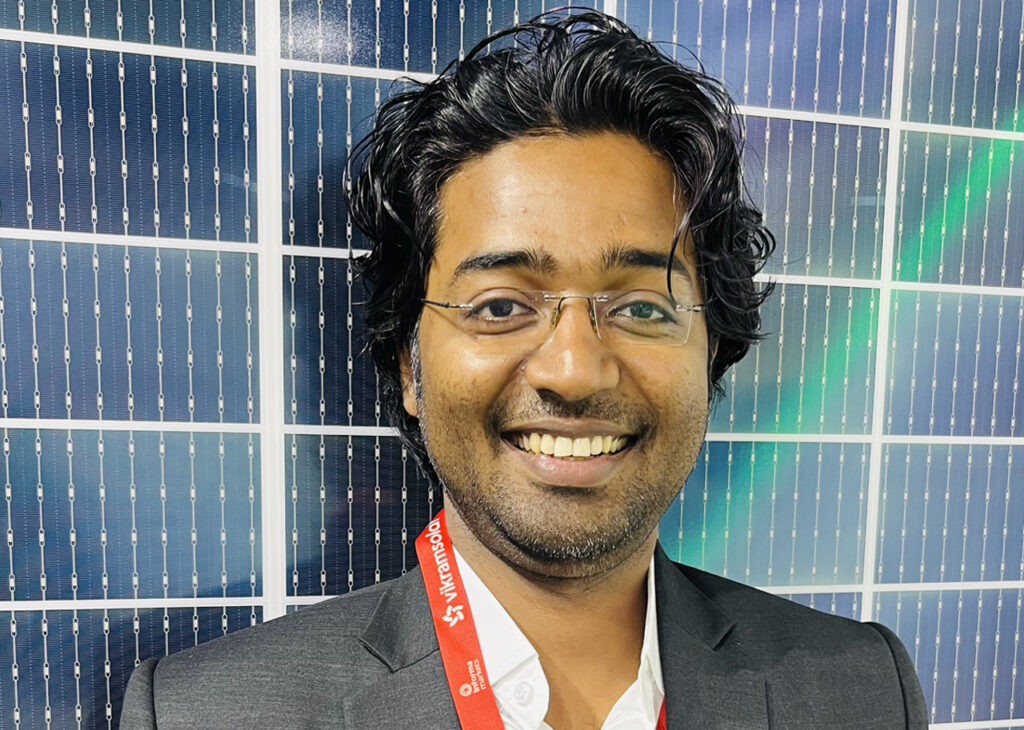 Credence Solar, with its state-of-the-art manufacturing facility located at Rajok, in Gujarat, is the first company from India to offer higher Wattage PV modules up to 670W. The company claims that the solar panel efficiency of 21.60% achieved from a 12BB 210mm 670W solar panel manufactured by Credence Solar is the best in India. Their solar panels are certified and approved by BIS for their quality and are listed in ALMM. In this intearction, we speak with Jinto Joseph on his journey in the clean energy industry, about credence solar and its product portfolio and what it takes for a relatively new company like Credence Solar to establish and grow in the fast-changing and highly competitive solar industry.
---
Q. Jinto Joseph my first question to you is if Career in  Clean energy happened to you or was it a choice that you made? How would you sum up your journey in the industry till now?
Good Question. It is an innovative industry, where I could find no dull moments and can also contribute to the production of new clean energy sources that reduces emissions and climatic change. Of course, we are going to be a part of an eco-friendly world. For me, it is personally satisfying to do something for nature. Of course, it is a choice of working in clean energy. I had a choice of doing a project in my engineering with renewable energy, which got appreciated by many hands and the same continued. As soon as I got my studies over, I got an opportunity to work with Tata Power Solar. I have spend 12 years in the industry every-day with new challenges, thoughts, ideas and feelings. So, I still believe and am happy that I have taken the right path, the right industry. 
Q. Moving on, tell us more about your association with Credence solar as a Head- Marketing and Business Development, how are you driving the core business at Credence Solar and helping the company achieve its mission of building a sustainable future?
It is almost six months that I have been associated with Credence Solar and Credence as an organisation has got well-focused motto to provide the best quality and technology-competitive products. Since our products and offerings are ment for higher projects and we do have major corporate accounts focused on, like big projects, where we are concentrating on our higher efficiency and higher rating modules, developing the market with our new associates and adding day-by-day is giving us better mileage. The difference in the product we offer has given us market penetration and acceptance. As a new organisation getting its first balance sheet in 2023 FY, we are almost touching 100Cr. It is one of the best achievements for any organisation that has started in the PV module and is booking in its first year. 
Q. It's great to know from you that Credence Solar is touching 100 cr in terms of sales within six months of its product launch.  Moving on to my next question, What are the different modules manufactured by Credence Solar and what differentiates the products from the already existing products in the market?
It is a nice opportunity for us to explain our offering. When we were starting our manufacturing plant, there were a lot of technologies existing in the market. So, there was confusion for us to come up with the right product. There was a lot of R&D that we did to select the right technology. Where we landed was at the biggest cell size that was existing, that was coming up to the industry. So, we selected to go with M12 size and 12 BB technology. We are the first manufacturers from India to start offering 12 BB concept of modules and the first manufacturer to set up a plant competent to that particular technology. Our offering in this particular technology starts from 540W to 650W, which includes both Monfacial and Bifacial modules. I would like to add here that, there is no one in the industry today offering the products that we have introduced. There is a major push we are getting in the market, the customers are accepting the technological improvements and today when we look at the entire market, this technology stands at 50% of the market share and is expected to reach almost 70% to 80% in 2023. As I have already mentioned, we are the first manufacturer to start with and slowly the trend is following us to shift the change in technology according to our choice. Moreover, with higher size modules, we have engineered the product in such a way that the product is not going to have failure. As a precaution, we are giving additional back support like a back rail on the backside of the module to avoid bending the glasses in the future and even our BoM of the product is selected such that the module will have less degradation and higher life. Even our glass-to-glass products have good front side and backside support irrespective of having a back sheet. We believe that the product that we have introduced in the market is the best in quality and standard that will be accepted by the industry.
Q. Definitely such an impressive product portfolio will need a state-of-art manufacturing facility, can you tell us more about the module manufacturing facility at credence solar?
Sure, the manufacturing plant that we have set up in 2021 still stands as the latest manufacturing line as of date.
I would like to add one more point, at the Intersolar 2022 exhibition that happened at Gandhinagar in Gujarat, we launched our new concept of modules into TOPCon category and again we lead there as the first manufacturer to showcase TOPCon modules in M12 family.
Coming to our manufacturing facility is compatible with M10, M12 wafers and whatever upgraded technology development that is happening in the industry like TOPCon etc.
Starting from NDC cutter to packaging our line is fully automated, which includes auto bussing, auto taping and the laminator that we have is the biggest laminator as of date in India that any Indian manufacturer is having. The NDC cutter with us allows cutting of the cells having zero micro-cracks and we are the first one to bring that particular machine to India. To manufacture a bifacial glass-to-glass module we have a double glass loader that is accelerating the speed of manufacturing capacity. Even we are planning to increase our manufacturing capacity from the current 200MW to another 600MW so we are going to be in the 600MW club by March/ April 2023. So, the expansion activities are going on.
This is all about our new manufacturing line and our facility located on 18 acres of land at Rajkot in Gujarat has all sorts of infrastructure for future expansion that we plan for.
Our management has got a clear vision to expand it to the next capacity that we can achieve along with the cell manufacturing plant that we are thinking about depending on the market trends and demand that is going to happen.
Q. Good to learn from you Joseph about the state-of-art manufacturing facility at Credence Solar and also that the company is planning to expand its manufacturing facility from the current 200MW to 600MW in 2023, so moving on, the market is witnessing lot of interest in Bifacila PV Modules, can you shed more light on the Quasar-Bi line of bifacial PV modules manufactured by Credence Solar?
The Quasar-Bi stands for Bifacial modules and Bifacial means that it can produce electricity from the front side and backside. So the construction is such that between two glasses the cells are sandwiched.
With our 12 BB cell technology Quasar-Bi series of modules, the customer can get up to 20% extra generation. We have already supplied close to 10MW of Bifacial modules of 650Wp and our module construction is something different, unlike other manufacturers we are offering glass-to-glass. The encapsulant that we are using and certified BoM is with BoE based encapsulant by which the product will have a better life, and less degradation. Our bifacial product comes with 18 years of performance warranty. Being a glass-to-glass product, we are confident that the product will have better performance life, product life.
We always say to our industry, and to our customers that when we think about a project or think about bifacial whatever gain that you are going to get from the backside is an additional gain over and above the generation that you are getting from the front side. The Bifacial trend is going to be the next era of products, we always happy that we could come up with the biggest bifacial modules that anyone manufacturing in India from our Quasi-Bi series
Q. Share the experience of working on the first project of 500KW where the credence modules are used? What were the challenges and how did Credence Solar overcome the challenges?
500KW was our first project where we supplied our Monofacial modules. After this 500KW project, we have supplied 4MW with Quasi-Bi series that I have already discussed. Another 3MW and 1.2 MW are also already over. For the 500KW we have supplied our 650W modules and the project is commissioned and the plant is running successfully where we have witnessed the generation of close to 6 units, on peak days, and on an average of 4.75 units generation from the day of commissioning the project.
There were a few challenges when we introduced this product. While the module technology was upgrading the equivalent inverter technology was not up to meet the module requirements. So there were challenges for us to find the best inverter to suggest to our customer. But now the inverter technology has come up to meet the high current requirement and today there are up to 9 manufacturers that are supplying high current inverters. So the major challenge that we faced during that time was that the inverter technology was not scaling at the speed that the module technology was evolving.
Q. Moving on to the overall market scenario, What are your views on the current status of Module manufacturing in India? What steps can lead India to become the solar manufacturing hub of the world?
The major issue the industry, and am not speaking just about module manufacturers as we are also included when we talk about the solar industry, is facing is that we lack a lot of good policies. Of course, the government today is coming up with a lot of policies and these policies are the major backbone of the industry to grow. Being a module manufacturer, the problem we face is with the availability of raw materials. For each and everything we are dependent on China. The government has to scale up a few policies as such we should have our infrastructure to manufacture all products. There is a lot of investment coming to our country, just that the government has to frame the policies accordingly so that the investors can think about investing in the country that will make us self-sufficient to meet our requirements.