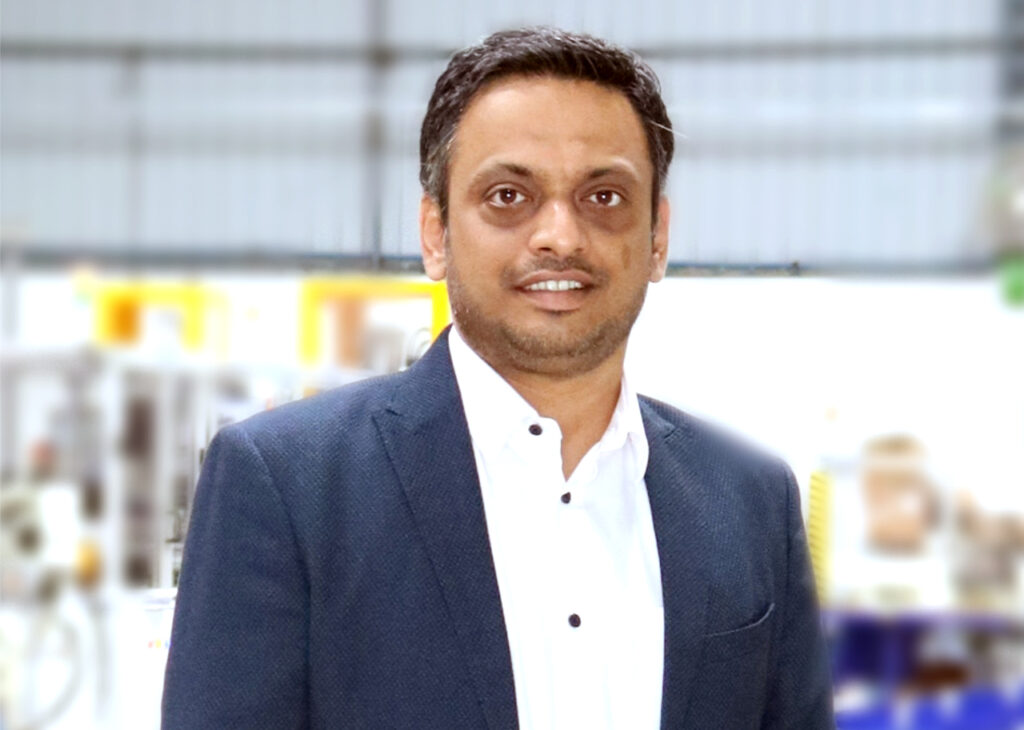 Himanshu has almost 18 years of successful experience providing strategic, fiscal and operations leadership in uniquely challenging situations. He is a dynamic, result-oriented leader with a strong track record of performance in turnaround and high-paced organisations. The Smart Energy team spoke with him on his formative years before he joined Jendamark and his transformative journey that has not only helped Jendamark create a brand name for itself in India but has also lead the company on the growth path. We will also discuss with him on innovative solutions that the company offers for the emerging EV, battery manufacturing and hydrogen energy industry.
---
Q. To begin with, before we dive deep into the world of technology and digital transformation or Industry 4.0, can you take our listeners though your earlier journey that is before you joined Jendamark?
My journey is of typical middle-class family origin whereas we all have experienced education is of prime importance. Obviously, in my family, as I grew up as well, a lot of emphases were laid on education, getting the right education competitively as well. So with that mindset, I excelled in my studies and followed it up with engineering in Mechanical, where I was lucky to get selected in one of the first batches of GETs (Graduate Engineering Trainees) which got me recruited by Tata Motors from my college. After a stint of almost five years at Tata Motors, I joined Volkswagen. After 8 to 9 years at Volkswagen, I decided to join Jendamark in 2016. So, over the entire journey from my schooling till now I have been blessed to have good influencers and well-wishers who have supported me in this journey till date and I am quite thankful for all those individuals who have shaped where I am today.
Q. From leading and growing the company to creating a brand identity for an unknown company, how would you sum up your journey at Jendamark?
Jendamark was an unknown company in India but globally it was quite well know and established brand providing automation solutions worldwide from South Africa to Europe, US and rest of the world. It was only in India that it was a bit of unknown company. My discovery with Jendamark started when I visited South Africa in 2010, that's when i came across this wonderful guys from Jendamark in South Africa who were very open, honest, transparent, hardworking, which resonant with my way of working and thinking as well. That's how my association with Jendamark grew and for almost six years we were working together. But, I was part of volkswagen then.
In terms of summing up my journey with Jendamark, so far, it's been extremely exhilarating, hustling, purposeful and more importantly I think it has given me an opportunity to broaden my meaning and definition of life and what I would like to do in life in general. Of course, we all are tech companies providing technical solutions but on a higher level we are getting a lot of purpose and I feel I have found a purpose in lot of things which I am doing with Jendamark. There were some lessons, there are always ups and downs but overall the purpose and the intent have been really amazing to work in Jendamark.
Q. Jendmark is recognised as a pioneer of industry 4.0 revolution in India, can you brief our listeners about the different products and solutions that you offer and the different industries you cater to?
We are known as the pioneer of the industry 4.0 revolution in India primarily because of our approach to industry 4.0 in general. We have what we proudly claim is a human-centric approach in Industry 4.0, which is a distinguishing factor between the solutions offered by Jendamark and by the other players in India. India is a country with an ever-growing population, and our dynamic and socioeconomic problems are all revolving around the human capital that we have. As much as we feel and we would like to have automation as a mainstay, we cannot and should not oversight the power of individual humans and what it brings to the table. That's why we have developed a suite of products under the brand name ODIN which are enabling, energizing and increasing the efficiency of humans involved in the manufacturing sector to start with.
We are open to any industry. Primarily we are focusing on the automotive sector, but to be honest the manufacturing sector at large be it the pharmaceutical sector, white goods, bottling plants or anything which involves manufacturing, our product suite of ODIN is well received in all these industries.
Q. As I understand, Jendamark's primary business comes from the automotive sector, how is Jendamark catering to the needs of the emerging sector like EV?
Innovation is the only way in which we can provide solutions for an emerging sector like EV and ESS. We have provided battery pack lines, motor lines, inverter lines, e transmission etc to many customers over the last 3 to 4 years. We have realised the challenges the emerging EV sector faces and that providing only automation solutions or equipment is not going to solve their challenges. There is a range of variables, some companies want a low-cost, low-volume solution. While, Some companies want high-volume, highly complex solutions. What we have kept consistent across the entire range is our process security for making this product for our customers and this process security is one of the key factors and differentiators in our offerings.
We also understand the financial challenges which come up with an emerging sector like EV. To address these challenges, we have come up with various financing models like software on license model. We also have the option of leasing the line and equipment. These kinds of licensing and leasing models allow a bootstrap company to have low costs in the initial phase. What we have realised is that these companies are innovative companies that have developed good products but the initial investment is a bit of an issue for them. These licensing and leasing models allow them to focus on their main stay which is R&D and product and not worry about financing. As the product grows, as the volume comes in, automatically the sales will result in better finances. That is our contribution to these bootstrap companies.
From our experience internationally and locally and our expertise in setting up factories, we are happy to consult any company in EV specifically on how to go about setting up an EV factory. So, it is not all about just providing assembly lines and machines. It's solving the financial issue, and consulting them on setting up EV factories and that is what we are focusing on as a wholesome solutions provider to our customers. .
Q. We are seeing a lot of policy support, push and customer preference towards adoption of EVs, how do you see the EV sector in India and going forward what are the opportunities in the EV sector that you at Jendamark are getting ready for?
The EV sector is here to stay and grow. What we are experiencing is a big transition. In a span of 20 to 25 years, even fuel prices have gone up by six times which is an indicator that it is not going to slow down. Apart from that, the pollution factor which the IC vehicle brings in also needs to be addressed. What we need to work on is creating renewable energy to power EVs. From Jendamark's perspective, we are a very vocal-for-local company. We are focusing on Innovation and R&D and we have a dedicated R&D department globally working on making innovative solutions which are otherwise imported from Europe, the US or China. We are working on making innovative local SPMs catering to the EV industry. Another topic that we are working on is lowering the lead time to delivery. Because time to market in EV is key to success. There is a lot of challenges involved in lowering the lead time due to the uncertain supply of electronic goods because of semiconductor and chip shortage issue. But, we are trying different solutions to enable us to cater to that challenge and solve it successfully for our customers.
Q. In addition to manufacturing of EVs, we see a lot of opportunities that are coming up in the stationary and EV battery business, what would you advise to the entrepreneurs that are looking to enter into or traditional led-acid battery manufacturers diversifying into lithium-ion battery manufacturing/ assembly business?
It is a good opportunity for sure, but be cautious about your product. I think engineering & R&D is a key ingredient which is going to be the only way forward and only those companies who have a focus on developing their own product will be sustainable in the market in the coming years. Companies who are looking for quick turnaround, importing and selling stuff in India already are seeing problems because the government has tightened a few measures. The new policies coming from the government to make EV safer with the AIS 156 and its amendments. All of this only means that the companies that have sustainable, strong products will remain and the rest will perish.
From an assembly point of view, securing a good supply chain and more importantly having state of art assembly line solutions to assemble the product in the right way is essential. Many solutions are coming from other countries that are not sustainable. You have to look at a sustainable manufacturing assembly line solutions provider who can support you over the next decade or so.
Q. Share your experience of working with Hero Yamaha Corp where Jendamark has delivered high volume E-cycle assembly line for the company? What were the challenges in delivering this project and how did you overcome the challenges?
It was a very exciting six months project. It was a record even for us to deliver a high-volume e-motor line for the Hero Yamaha JV. The challenge was with parallel product development. The product was getting developed and at the same time, we were developing the line that too is delivered in the shortest time. The deadlines were strict and straight. We had to have the plant opening along with our line and the component being made on our line on 15th Dec 2022. We had a very clear directive of what we wanted to do. The team put together by Jendamark was fantastic team, we choose guys who loved and thrived in these challenges. That's what differentiates Jendamark from the people aspect as well. We also got fantastic support from Hero Motors and Hero Yamaha team working with us on our floor. They were more like our partners working with us, staying with us, sleeping on the floor with us and delivering together a very successful project for their company and us as well. Our partners and suppliers also stood up to the challenge to ensure that we get what we want in time. Overall it was a very good team effort from everyone to deliver a world-class soluton to Hero Yamaha Motor Corp.
Q. How would you define success for yourself and your company? Where do you see Jendamark in the next 5 to 10 year?
Six years back when I joined Jendamark, if someone told me that this is where we would be in Dec 2022, I would have not believed him or her. We are an evolving company even now. We think like a startup and work like a startup. This comes from the DNA of the company which always hassles. We always hassle and thrive in situations that are challenging. We venture into the area where most people do not venture because the risk is too high. But, where there is a high risk that's where the opportunities lie as well.
In terms of success, we are not here to just get bigger, but we want to get better and while getting better we also want to bet bolder. Getting bigger, better and bolder is what success is for me and is a continuous process. As we grow bigger, we will get better, we will get bolder and that for me will be an ultimate definition of a successful journey in this process.