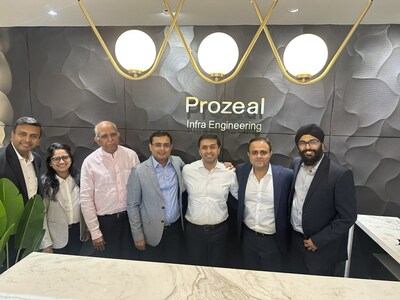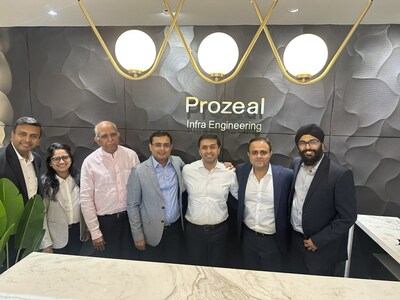 Prozeal Infra Engineering Pvt. Ltd. has announced their first round of funding led by Chandrakant Gogri's family office arm – Alchemie Ventures. The $4 Million (approx. INR 32.5 Crore) investment is for a minority stake at an undisclosed valuation. The funds will be used to scale operations and execute developer-model projects for energy and utility companies. Incorp Advisory was the exclusive investment banker for the transaction, which represents the largest Series-A fundraising transaction in India's Solar EPC space in over 2 years.
Prozeal Infra is a home-grown venture founded by two Ahmedabad-based co-founders. The company already has an order book worth INR 1,000 crore ($120 million) that will be fulfilled over the next twelve months. In FY25, they expect to exceed INR 1,500 Crore ($187.5 Million) in revenue.
Manan Thakkar, co-founder at Prozeal, said, "We are aligned with the National Solar Mission – a key project envisaged by Honourable Prime Minister Shri Narendra Modi for India's energy diversification. This investment is a testament to our vision and commitment to creating a sustainable future for India's growing energy demands."
Shobit Rai, co-founder at Prozeal Infra, said, "We are thrilled to have Mr. Chandrakant Gogri and his family office as our first investors. Mr. Chandrakant Gogri has a proven track record of building fast-growing and profitable businesses – creating immense value for shareholders. His sharp business acumen and guidance will enable the next phase of sustainable growth for Prozeal Infra."
Chandrakant Gogri, the Founder & Chairman Emeritus of Aarti Group of Industries [NSE:AARTIIND], said, "I am impressed with what the dynamic and passionate founders at Prozeal Infra have achieved. Solar energy and decarbonization are the backbone of India's climate change commitment. Prozeal Infra, through its engineering capabilities, is well positioned to capture a lion's share of this energy transformation."
India has made a climate change commitment of meeting 50% of its energy requirements through renewable sources by 2030. This translates to 300 GW of installed solar power capacity by 2030, of which only 65 GW is installed today. Prozeal Infra has a vision to be a decarbonization and net-zero solution company for commercial and industrial MNCs, MSMEs and Government institutions supporting India's sustainable energy goals.
Inderpreet Chadha, Head of Investment Banking at InCorp Advisory, said, "This investment catapults Prozeal Infra towards becoming one of India's largest players in this space. We are proud to be associated on this marque transaction. We proved that commercially prudent businesses with a commitment to create long-term customer value are not affected by the so-called 'funding winter'."