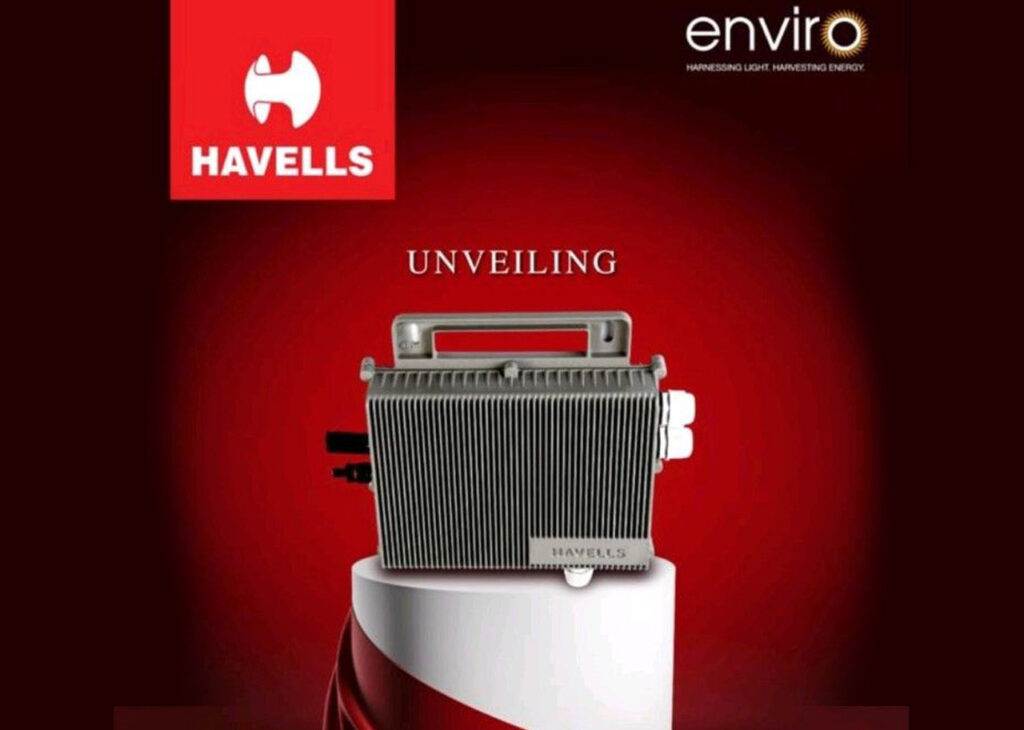 Havells India Limited unveiled its revolutionary product – the Dual Mode Micro Inverter (DMMI), backed by four US patents. This innovation is set to transform the solar power industry by addressing key limitations associated with traditional inverters and microinverters. DMMI is equipped with an MPPT-based Solar Charge Controller, which efficiently converts DC current from solar panels into AC current. 

It is available in two models, DMMI-800 and DMMI-1600, these inverters can seamlessly transition between ON-Grid and Off-Grid modes, catering to various grid scenarios. Both DMMI models are compatible with all types of solar module technologies.
 
Traditional solar inverters and microinverters are highly dependent on a reference grid voltage. In the event of a power cut, they become non-operational, resulting in the wastage of precious solar energy during daylight hours. Havells has addressed this issue with its patented Dual Mode Micro Inverter (DMMI). The new product is a game-changer in the world of solar energy. It functions both as an ON-Grid inverter, supplying power directly to loads and exporting excess energy to the grid, and as an Off-Grid inverter, supporting connected loads without exporting power to the grid. In Off-Grid mode, DMMI ensures anti-islanding, preventing any power export to the grid and enabling power consumption by connected loads only.
 
Speaking on the occasion, Parag Bhatnagar, President, Havells India said,
 "We are thrilled to launch Dual Mode Micro Inverter (DMMI), a cutting-edge technology to the market. The launch reinforces our commitment to delivering efficient, dependable, and eco-friendly energy solutions. Dual Mode Micro Inverter (DMMI) signifies our commitment to empowering users to harness the full potential of solar power, independent of grid constraints".
One of the standout features of the DMMI is its seamless integration beneath the solar module, eliminating the need for extensive DC wiring. This innovation not only enhances safety by operating on low DC voltage but also increases reliability. Unlike traditional inverters where the entire string's power output drops if one solar module malfunctions, the DMMI ensures uninterrupted power generation even if a single module encounters issues such as shading or debris. Furthermore, DMMI can be connected in multiples, allowing for parallel operation at a single site, providing scalability to meet varying power needs.
 
To enhance monitoring and control, DMMI can be linked to EDGE – a real-time data logging device that connects to your home Wi-Fi network. This enables users to monitor their solar power plant's performance, load usage, and power export to the grid through a user-friendly website or mobile app. Additionally, the edge device can also help to upgrade the software in the DMMI over the AIR from Havells development team.