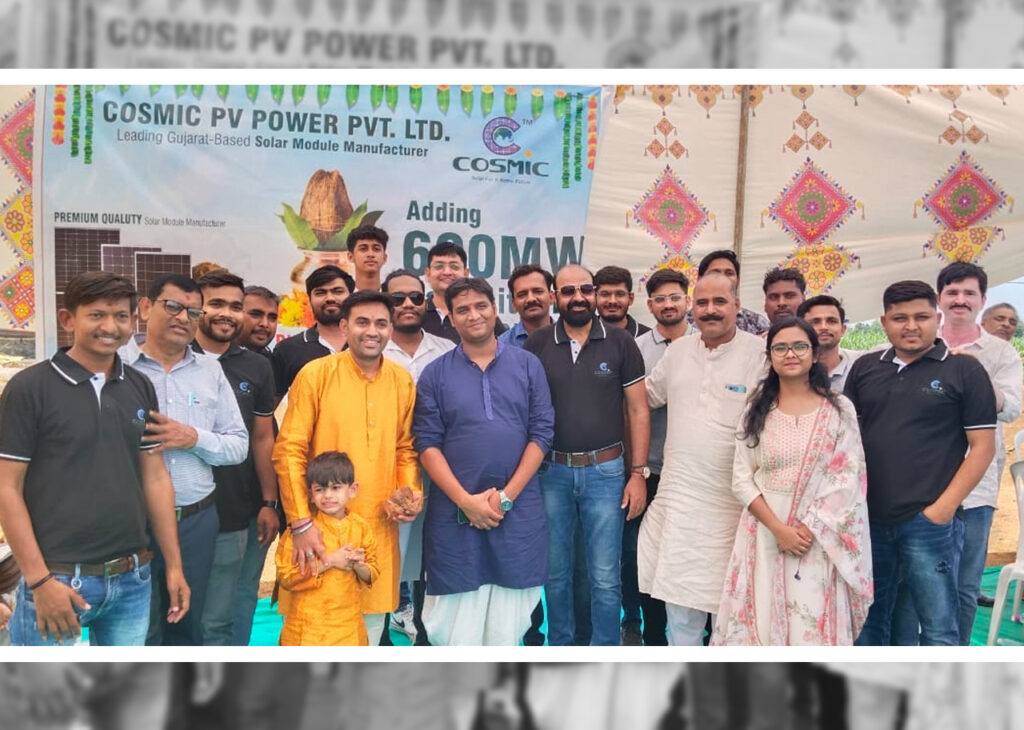 Cosmic is going one more step ahead with new 600MW fully automatic with advance robotics technology solar module manufacturing facilities in India's highest growth city, textile city, diamond city and now also known as solar city Surat. Breaks Ground on its New State-of-the-art 600 MW Fully Automatic Solar Module Manufacturing Facilities.
Cosmic PV Power Pvt. Ltd. A premium quality Module Manufacturing and most Preferred OEM Partner in India pridefully announced new fully automatic robotics manufacturing facility in Surat. The Ground breaking ceremony was on done for of its new State-of-the-art 600 MW in multi BB fully automatic module manufacturing facility, this Facility will be one of the biggest factory area wise spread in more than 3,00,000 Sq. Ft in Surat. With this Facility now Cosmic has 2 Manufacturing facilities cumulative of 850MW at Surat, Gujarat – India.
"The new facility would be equipped to produce premium quality and better efficient PV modules in Multi BB based on HJT and Topcon technology within the range of 550Wp to 600Wp Mono PERC and Bifacial modules. The production facilities are scheduled to commence operation from June 2023", said Mr. Shravan Gupta, Managing Director, Cosmic PV Power.
Cosmic PV is committed to Made-in-India and the manufacturing plant is the next step in contributing to Atmanirbhar Bharat in Solar PV. Cosmic PV has a fully trained production engineers and maintenance team.
All the modules produced from factory are tested as per BIS, ISO and IEC standards and are of highest level of quality standards.
Cosmic follows the principal of three "T"- Trained Team, Tested Material and Timely Delivery.
Cosmic follows ethical business practice "Quality Damdar, Performance Shaandar" and maintaining Business relations with all it's clients very professionally, never disappoint their customers in terms of delivery commitment and raw materials quality.
"The next goal cosmic is targeting is to achieve a cumulative production capacity of 1.4 GW in 2024", added Mr Jenish Ghael, MD, Cosmic PV.