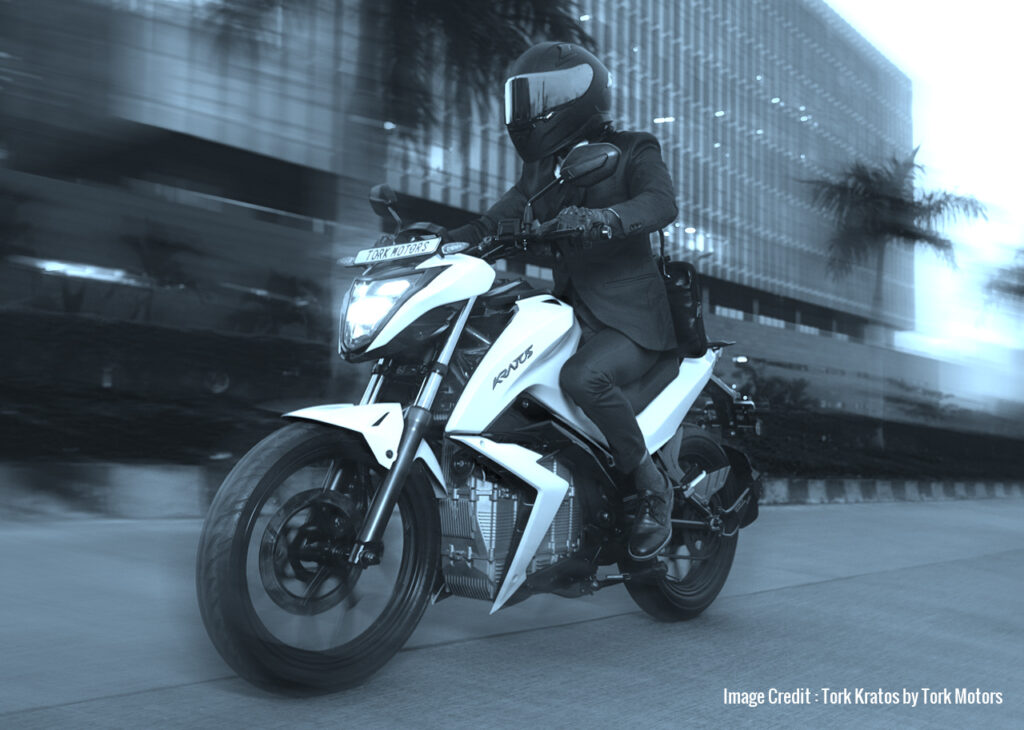 The India electric vehicle market size was valued at USD 1.45 billion in 2021 and is projected to grow from USD 3.21 billion in 2022 to USD 113.99 billion by 2029, exhibiting a CAGR of 66.52% during the forecast period. According to reports in public domain, India electric vehicle market exhibited a rise of 11.34% in 2020 as compared to 2019.
Post the COVID 19 pandemic, the India Electric Vehicle market in India has rebounded with the cumulative sales crossing the 1 million mark for the first time in Y2022. The total units sold across all the segments reached 10, 90,641 units. Uttar Pradesh with 26.92% share dominated the EV market with maximum share in EV sales in 2022, followed by Delhi with 12.82%, Karnataka with 7.85% and Maharashtra with 7.21% market share. Among the cumulative EV sales figures, Electric 3 wheeler segment lead the market share with 59.4%, followed by electric 2 wheelers with 32.8% and electric 3 wheeler cargo with 4.0% market share.
From the global perspective, the Indian automobile industry ranked fifth largest globally and is expected to become the third largest by 2030 as the demand for electric vehicles is growing tremendously due to the rising prices of petrol and diesel, policy support from the government and NITI Aayog's vision that aims to achieve 70% penetration of EVs in all types by 2030, indenting to attain net zero carbon emissions by 2070.
COVID-19 and Other Challenges:
Surely, like every other industry, the EV industry was also affected by the pandemic. However, looking at the encouraging sales figures for the year 2022, it can be safe to assume that the EV industry is slowly but steadily recovering. Still challenging times lies ahead.
First, the EV batteries catching fire and the visuals of electric vehicles burning on roads adversely affected the sentiments towards EVs. Though these incidences have had a short term impact on the demand for EV's in the market, it was a wake-up call for the industry. The industry readily accepted the challenge, with players taking validation and testing seriously and focusing more on designing and improving battery packs, using quality cells and paying more attention to BMS.
Another challenge that the industry is going through and is likely to have wider and long time ramification is the complaints received by the ministry of Heavy Industries regarding misappropriation of subsidies under the FAME India Phase II scheme by some electric vehicles manufacturers which has led to the government tightening the release of FAME 2 subsidies and in some instances even action by the government like suspension of models from the list. Going forward, according to various reports, the government may not extend the FAME 2 subsidy scheme, even though there is a demand by the EV manufacturers to extend it beyond FY 2024.
Subsidies were given to level the price difference with combustion vehicles, and to support commercialisation and are anyways not sustainable for long time. According to experts we interacted with, the EV market will keep growing even if the government decides to stop subsidies. With companies devoting major resources to R&D and growing consumer interest the EV industry is likely to witness a gradual transition from policy-driven to market-driven segment.
LATEST TRENDS:
Looking at the market trends, the two-wheeler market in India holds the key to the future of EVs given the volume and size of the auto market it can cover. Electric two-wheelers were first introduced in India in 2015, and sales have steadily increased since then, owing primarily to increased awareness among the growing middle class and young population. Electric two-wheelers are also becoming more popular, as many low-speed category models are exempt from RTO registration and driving licence requirements. The price sensitive nature of the India market is also driving faster adoption of electric 2 wheelers, coupled with the traffic congestion witnessed by majority of the travellers is making electric 2 wheelers a preferred choice.
Another segment that is witnessing rapid growth is that of commercial electric vehicles lead by the 3 wheeler. According to a BNP Paribas report, the electric three-wheeler market grew 115 per cent in volume year-on-year and 11 per cent month-on-month. The penetration of electric three-wheelers is the highest in Uttar Pradesh with 79 per cent in FYTD 23 followed by Punjab and Delhi. The three-wheeler industry segment plays a crucial role in terms of rising economic activity and business-led mobility solutions.
Logistic players, last mile delivery companies and large fleet operators are the other segments that are contributing to the growth of EV market in India. According to experts, E-commerce and logistics firms in India are increasingly lining up to electrify their fleets in a bid to cut emissions and cope with high fuel prices, boosting prospects of the emerging Electric-Vehicles-as-a-Service (EVaaS) sector. The new-found focus on electrification is also attracting more investors to the fleet segment. According to Crunchbase, a private company database platform, more than $160 million have been invested in electric vehicle start-ups in this segment starting from April 2020, against $7 million in the period before that. Availability of easy financing, dearth of right product and lack of charging infrastructure are some of the challenges that needs to be addressed for the segment to continue its growth trajectory.
Another major opportunities emerging is of electrification of public transport sector. In the public transport sector, meeting the mobility needs of citizens with clean passenger kilometers is among the highest priorities for India. As demand for public transport rises, a significant opportunity exists to electrify this new demand. By pursuing this opportunity, India can become one of the largest electric bus (e-bus) markets in the world. The increasing priority and support for e-buses from the central government and active response from states, cities and industry, as being witnessed under FAME II, are encouraging India to achieve this adoption path. Yet many challenges must be overcome by Indian cities and industry players to successfully deploy these buses and ensure robust processes and planning for their tendering, contracting, and operations.
In all this growth stories, one segment that is missing is that of the electric four wheelers or the personal/ passenger vehicle market. According to KPMG India, Electrification in the personal vehicle segment is likely to lag compared with other segments. Based on an analysis of key enablers, the consulting firm expects 10-20% penetration of personal electric cars by 2030. Several gaps in the four-wheeler EV market such as a limited number of products, high prices, insufficient battery promise, low performance and an underdeveloped charging ecosystem are some of the impediments to the growth of this segment.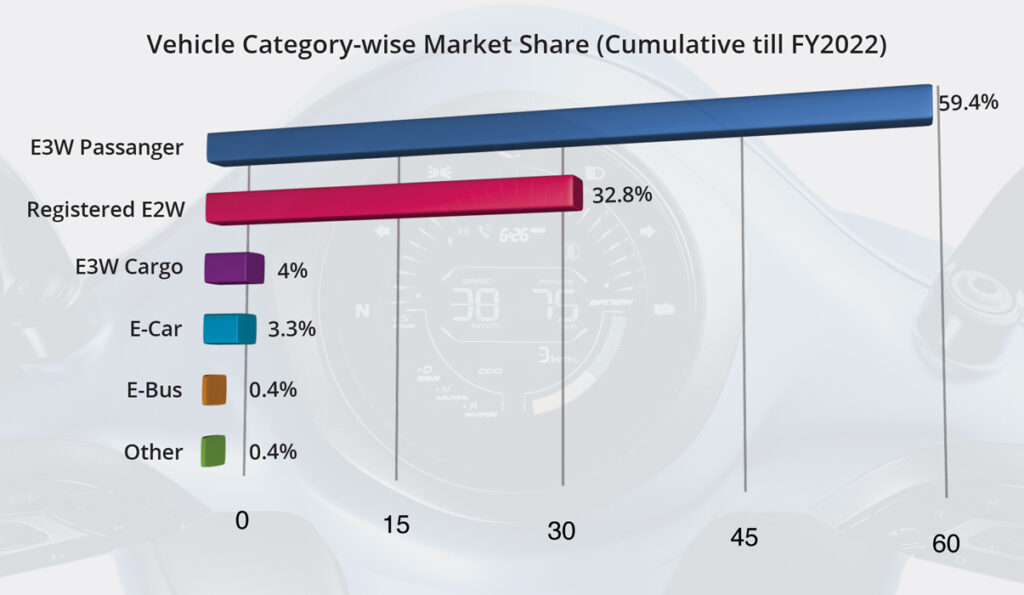 KEY GROWTH DRIVERS
Rising Fuel Prices & Operating Costs:
Surging fossil fuel prices in India is one of the major factors that is driving the demand for electric vehicles in the region. The purchasing cost of fossil fuel-powered vehicles is lower than EVs. However, their operating cost is high due to surging gasoline and diesel prices. In contrast, the operating cost of electric type of vehicles is significantly less than that of fossil fuel-powered vehicles. Therefore, shifting consumer preference towards adopting electric vehicles as a response to rising fossil fuel prices is likely to continue to drive growth for electric vehicles.
Additionally, the government's focus on fighting climate change by tightening emission control norms and introducing scrapping policies for conventional vehicles is anticipated to drive market growth in years to come.
Declining Cost of EV Battery:
The Indian automotive market is price-sensitive; therefore, a consistent decline in the cost of lithium-ion batteries positively influences the market growth. An essential driver for EV adoption is battery cost reduction, thereby reducing the total cost of operation (TCO) parity and the high upfront costs of EVs in India. Battery costs have declined by around 85% over the last decade, which has witnessed broader EV adoption in all vehicle categories. In addition, the battery cost in 2010 was USD 1200 per kWh and has declined drastically to USD 130-150 per kWh in 2021 due to scale in operations, changes in cell chemistries, and many other parameters.
Policy Support:
In addition to the above factor, the contentious support from the government in the form of policy push and incentives ahs also contributed the growth of the EV industry in India. Here we look at some of the flagship policy initiates taken by the government that is aiding wider adoption and growth.
National Electric Mobility Mission Plan 2020 (NEMMP):
The National Electric Mobility Mission Plan 2020 (NEMMP) was launched in 20132 to achieve national fuel security by promoting hybrid vehicles and EVs in India. At the time, the government aimed to provide fiscal and monetary incentives to encourage the nascent technology, as well as monetary support to potential buyers for the purpose of purchase. Accordingly, the NEMMP aspired to establish a roadmap for increased adoption of EVs in India, including in respect of sales targets.
Faster Adoption and Manufacturing of Hybrid and Electric Vehicles in India scheme I (FAME)
The Ministry of Heavy Industries (MHI) launched Faster Adoption and Manufacturing of Hybrid and Electric Vehicles in India scheme I (FAME ) in 2015, which focused on creating demand, technology platforms, pilot projects, and charging infrastructure related to EVs. The second phase of the scheme called as FAME II started in 2019 with an outlay of Rs 10,000 crore to incentivize demand for Electric Vehicles (EVs) by providing upfront subsidies and creating EV charging infrastructure. 1 million Electric 2 Wheelers, 5 lakh Electric 3 Wheelers, 55,000 Electric Cars and 7,090 Electric Buses are to be supported under FAME II through subsidies. Allocation of Rs 1000 crore has also been made under FAME II for provision of EV charging stations.
AME India II Scheme was redesigned in June 2021 based on experience particularly during Covid-19 pandemic and feedback from industry and users. The redesigned scheme aims at faster proliferation of Electric Vehicles by lowering the upfront costs. The scheme has been extended for a further period of 2 years i.e. upto March 31, 2024.
Productivity Linked Incentive (PLI) scheme for Automobile and Auto Components:
The Government approved the Production Linked Incentive (PLI) Scheme for Automobile and Auto Component Industry in India for enhancing India's Manufacturing Capabilities for Advanced Automotive Products (AAT) with a budgetary outlay of ₹25,938 Crore. This Scheme proposes financial incentives to boost domestic manufacturing of Advanced Automotive Technology (AAT) products and attract investments in the automotive manufacturing value chain. The prime objectives of this scheme include overcoming cost disabilities, creating economies of scale and building a robust supply chain in areas of AAT products.
The PLI scheme for Automobile and Auto Component Industry has been a huge success in terms of the applications received from local as well as globally headquartered groups engaged in/ proposing to manufacture Advanced Automotive Technology vehicles/products. Apart from Indian business groups, approved applicants for Champion OEM Incentive scheme include groups from countries such as Republic of Korea, USA, Japan, France, Italy, UK and Netherlands. The overwhelming response shows that Industry has reposed its faith in India's stellar progress as a world class manufacturing destination which resonates strongly with Prime Minister's clarion call of Atma Nirbhar Bharat – a self-reliant India.
PLI Scheme for Advanced Chemistry Cell (ACC):
Union Cabinet on May 12, 2021 approved the National Programme on Advanced Chemistry Cell (ACC) with an outlay of Rs 18,100 crore to incentivize setting up of manufacturing facilities in the country for 50 Giga Watt Hour of ACC and 5 GWh of "Niche" ACC. The scheme was notified on June 9, 2021
Through this Scheme, the Government intends to optimally incentivize potential investors, both domestic and overseas, to set- up Giga-scale ACC manufacturing facilities with emphasis on maximum value addition and quality output and achieving pre-committed capacity level within a pre-defined time-period.
In addition to the above schemes, devised to promote the use of electric vehicles in the country and to make their manufacturing cost effective, several Indian states have introduced EV-related manufacturing policies which include subsidies, exemptions, and other miscellaneous incentives.
CHARGING INFRASTRUCTURE AND BATTERY SWAPPING
About a year ago, the Ministry of Power consolidated and issued revised guidelines/standards in respect of EV charging infrastructure, last amended in November 2022. The private sector is already investing in the manufacture and installation of EV-related supply equipment ("EVSE"), including with regard to charging and battery swapping technology. The Ministry of Housing & Urban Affairs amended the model building bylaws of 2016 to include enabling provisions for installing EV charging infrastructure in private and commercial building premises, including across core urban areas. Further, the viability gap funding (VGF) for battery energy storage systems (BESS) announced in the Budget will likely create additional critical infrastructure.
Meanwhile, the draft battery swapping policy, released for comments by NITI Aayog in April 2022,is likely to be finalized soon. This policy may include a voluntary design standardization, pursuant to stakeholder requests made in this regard. Furthermore, in response to incidents of fire in e-two-wheelers, amendments were introduced in respect of EV battery testing standards by the Ministry of Road Transport and Highways late last year. A few months prior, the Bureau of Indian Standards had formulated performance standards for EV batteries.
ZEV MANDATES
Given that new registrations of EVs still account for less than a twentieth of annual sales, industry stakeholders have suggested that a regulatory mandate for Zero Emission Vehicles ("ZEV") may be necessary in India. Such a mandate may establish EV-related percentage targets for annual production/sales, along with a credit trading mechanism to generate additional income streams. For instance, the EU, China, and several states in the US have adopted ZEV mandates with credit/offset-based elements along with financial penalties for non-compliance, leading to a significant growth in EV sales. The state of California, for example, which has more ZEV models than the rest of the US combined, has a percentage credit requirement, where such credits – awarded based on ZEV sales – can be traded.
Indeed, ZEV mandates globally have helped accelerate EV incorporation into mainstream transport, including by diversifying the range of products, providing roadmaps for innovation, pushing down prices, promoting investments in charging infrastructure, and generally building confidence among investors and consumers. Further, like in Europe, in order to increase electrification, India could redesign its extant fuel economy regulations in a manner that champions technological innovation. That way, domestic manufacturers may be incentivized to make more EVs for the purpose of meeting fleet average norms.
WAY FORWARD:
Several factors, including the availability of charging infrastructure, robust financing ecosystem, reduced battery prices and increased customer awareness, will pave the way for the new era of EV adoption.
Innovative business models such as battery swapping have emerged to enable widespread EV adoption. The battery swapping model alleviates issues of long charging time, range anxiety, high upfront cost and battery reliability concerns for the EV owners. To make this model workable, the operator needs to ensure standardisation of batteries and operate in a closed-loop environment.
To drive EV adoption, original equipment manufacturers (OEMs) and the central and state and governments need to work together for an integrated policy, creating a conducive ecosystem for India's electric mobility vision.
A combination of enabling policy measures, infrastructure development, total cost of ownership (TCO) parity, and a market buzz-promise to fast-track the shift to electric, are needed for the dawn of a new era for the automotive industry. Only a few state EV policies provide guidelines and incentives on battery recycling. A coherent recycling policy is also the need of the hour.