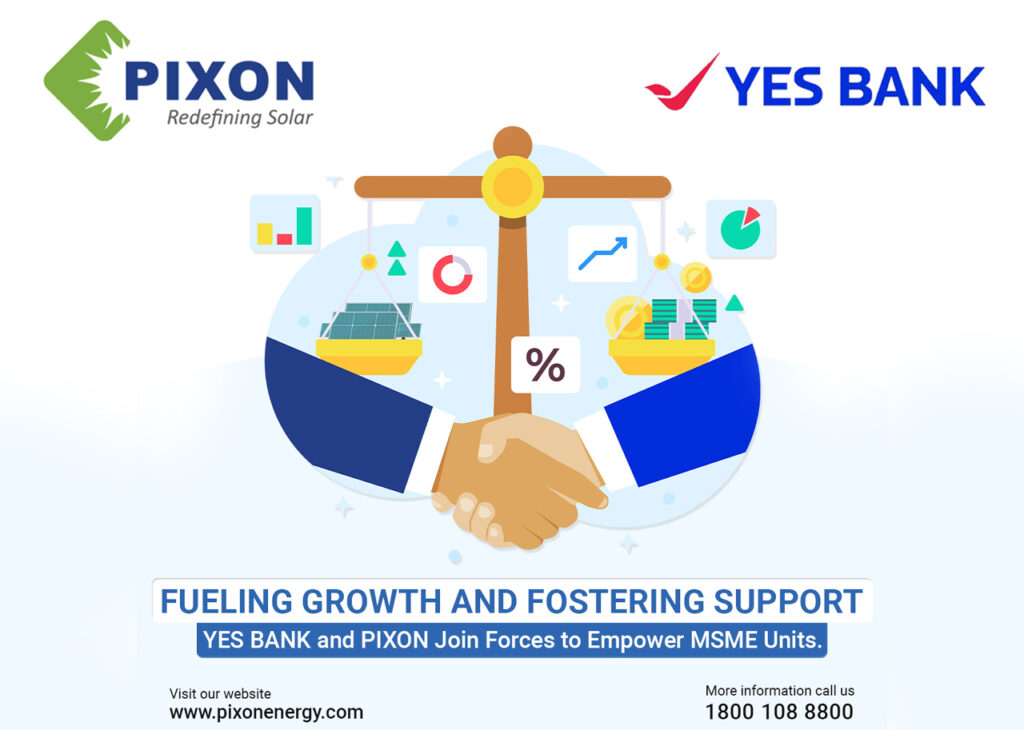 PIXON, a leading solar module manufacturerannounced that it has partnered with YES BANK,tobring forthinnovative financialsolutions forMicro Small and Medium Enterprises (MSME) who wish to install solar panels at their premises.
The partnership will contribute towards enabling the adoption of sustainable energy practices by MSMEs, while also helping them curtail their expenses towards power and fuel. It will alsoaid in the seamless distribution of PIXON's best-in-class quality products such as highly efficient solar panels and other technologically advanced products in the solar ecosystem.
The collaboration is part of YES BANK's YES KIRAN programme, an attractive lending proposition which aims to revolutionise the global initiative of adopting renewable sources of energy as a primary source.
Speaking about the partnership, Mr. Dhavan Shah, Country Head- SME Banking, YES BANK said, "At YES BANK, we are deeply committed to supporting small and mid-sized enterprises in their journey towards profitability and growth by curating propositions that can empower them to become energy efficient. Our partnership with PIXON is a testament to this effort. We are happy to join hands with team at PIXON to support the adoption of solar technologies and green energy products in India. Given our vast presence across the country, we aim to reach out to a wide network of customers and help them become early adopters of renewable sources of energy."
Mr. Sumit Mehta, Co-founder & Director of PIXON said, "We are glad to partner with YES Bank and envisage strengthening our footprints across PAN India. With PIXON's 1 GW state-of-the-art Solar Module manufacturing capacity and Yes Bank's prominent financial support, this partnership will bring together our capabilities to accelerate solar adoption in India. Now our quest for sustainability gets more empowered through our green energy offerings, and we hope that it will help the nation to unlock and enable future energy by creating a truly Atmanirbhar India."
Established in 2019 as a prominent solar module manufacturing company, PIXON has emerged as a leader in the field.  With its 1 GW European technology manufacturing line for solar modules and the upcoming Multi-Busbar Modules range, PIXON has achieved a significant milestone in establishing itself as a key player in the ever-growing renewable energy industry. Being the top 10 solar module manufacturing companies in India, we are dedicated to providing superior quality products and cost-effective solutions to our clients.
About YES BANK:
YES BANK is a full service commercial bank providing a complete range of products, services and technology driven digital offerings, catering to retail, MSME as well as corporate clients. YES BANK operates its investment banking, merchant banking and brokerage businesses through YES SECURITIES, a wholly owned subsidiary of the Bank. Headquartered in Mumbai, it has a pan-India presence including an IBU at GIFT City, and a Representative Office in Abu Dhabi.
For more information, please visit the Bank's website at http://www.yesbank.in/
Follow YES BANK on Twitter@YESBANK
About PIXON:
PIXON is a paramount manufacturer of a varied range of solar solutions. PIXON specializes in manufacturing solar modules with a state-of-the-art manufacturing line of 1 GW and a cleanroom environment facility for manufacturing EVA Film with 1 GW capacity. Their Solar Module manufacturing line will be capable of manufacturing M6, M10, and M12 Multi-busbar modules, offering a power output of up to 600 Wp and an efficiency rate of 21.20%. PIXON has already set landmarks and is consistently delivering efficient solar energy solutions to attain new heights. PIXON is promoted by the stalwarts of the Financial Markets in India – The Marwadi Shares & Financial Services.
For more information on the Company, please visit https://www.pixonenergy.com/