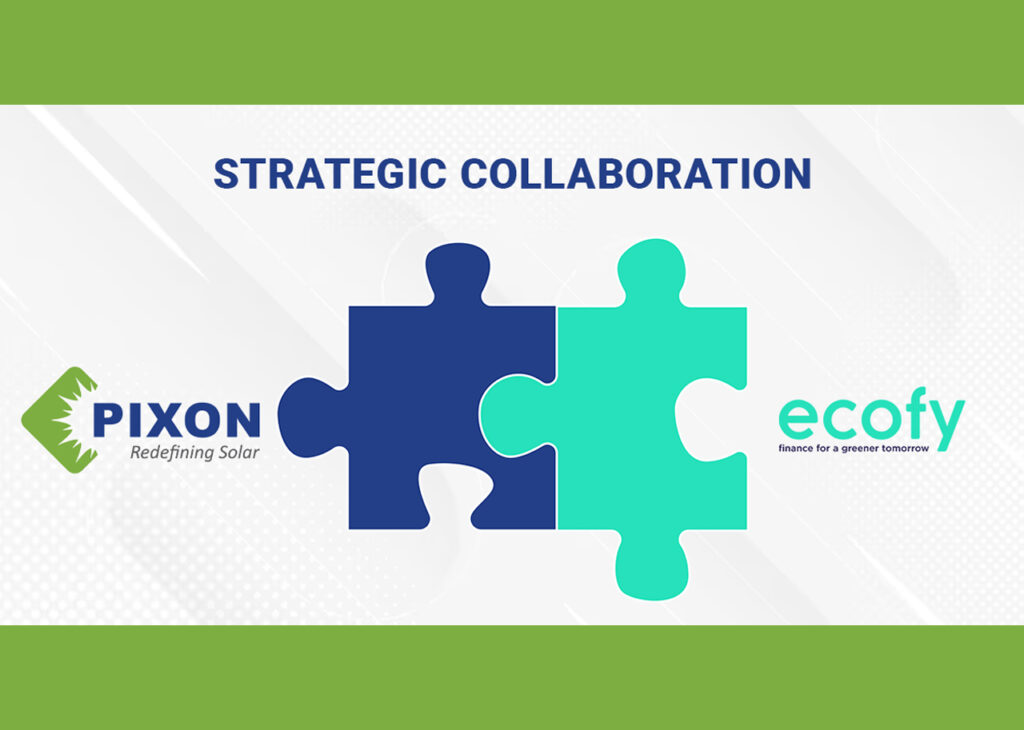 PIXON, one of the leading premium solar module manufacturer announced their collaboration with Ecofy, a one of its kind green-only NBFC that is committed to resolving the climate finance gap in the Indian retail sector. The collaboration aims to address the financial product-based needs of dealers and distributors associated with PIXON, with an all-in-one platform to provide a financial solution.
With this strategic alliance, PIXON is taking a significant step forward in its commitment to supporting its dealers and distributors by offering them streamlined access to financial assistance. With this partnership, PIXON aims to simplify the financial landscape for its stakeholders, enabling them to overcome financial barriers and thrive in their business endeavors.
Ecofy has established itself as a reliable and customer-centric NBFC catering to the unique requirements of businesses across various industries that are climate friendly &environmentally sustainable. The Company offers a wide range of financial products and services, including term loans, flexible credit lines and working capital solutions.
Dealers and distributors associated with PIXON can now access and explore Ecofy's various financial options tailored to their specific needs. This collaboration aims to eliminate the hassle of navigating multiple financial institutions, simplifying the process and saving valuable time and effort for PIXON's stakeholders.
Mrs Juhi Marwadi, Director of PIXON said,
"We are thrilled to collaborate with Ecofy to offer our dealers and distributors a comprehensive financial support system. At PIXON, we believe in providing holistic solutions that go beyond just our products, and this collaboration reflects our commitment to the success of our stakeholders. By simplifying access to financial services, we aim to accelerate their growth and ensure they have the necessary resources to thrive in their business ventures."
The collaboration between PIXON and Ecofy sets the stage for a transformative change in the way financial needs are addressed within the dealer and distributor network. By leveraging the strengths of both companies, this partnership promises to unlock new opportunities and create a robust ecosystem that fosters growth, resilience, and success.