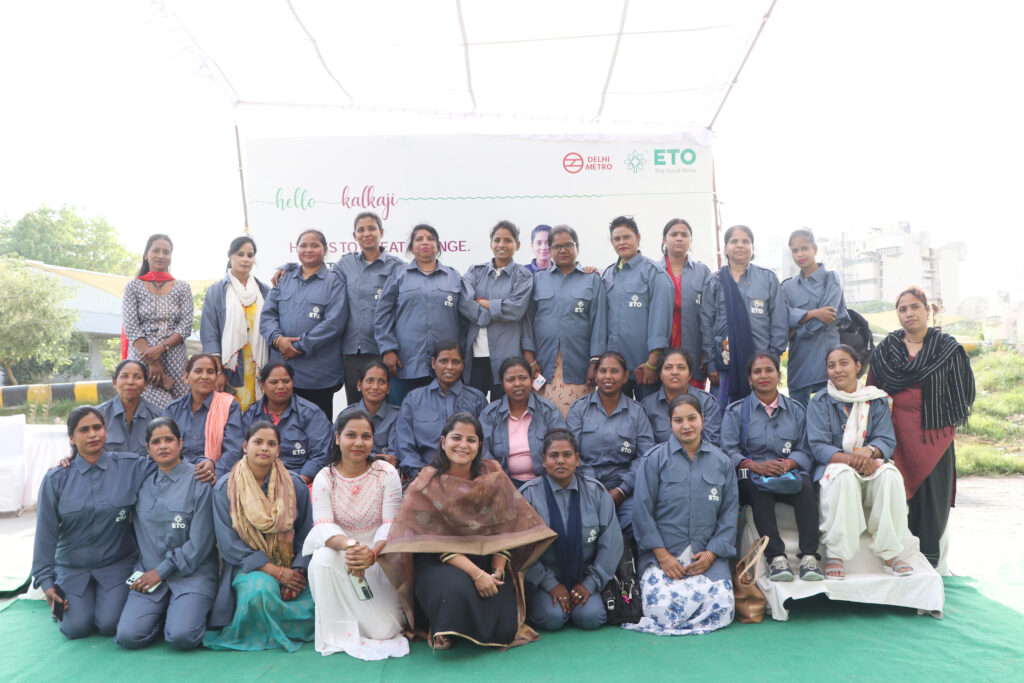 In line with India's net zero pledge and to enable sustainable growth, ETO Motors, India's leading EMaaS (Electric Mobility as a Service) Company with its unique 360-degree Electric Mobility business model, has launched 45 electric L5 three-wheelers with women driver partners at Kalkaji metro station in New Delhi. The initiative is in line with ETOs core principle of EMPOWERMENT and aims to promote their 'drive and own' scheme. This is ETO's second launch in the city, they have successfully launched 36 E3Ws at Azadpur Metro Station for LMC service in December 2022.ETO has also set up a charging network through ETOs EV charging solution – Thunderbox at the Kalkaji metro station, which can simultaneously charge up to 30 vehicles at a time.
Commenting on the launch, Mr Pavan Chavali, Managing Director and CEO, ETO Motors said, "With our successful project implementation at the Azad Nagar metro station we are thrilled with this next step towards greater last-mile connectivity in Delhi. We are meeting the needs of metro commuters in Delhi which have long been overdue while also ensuring environmental preservation with these launches. At ETO Motors one of our core beliefs is empowerment with consistency. We strive to develop a completely green transport system across cities with technology that ensures safety for the driver as well as passengers."
As committed, Delhi Metro has introduced many eco-friendly initiatives to ensure a robust last-mile connectivity system, which enables the commuters to prefer non-polluting public transport modes over personal vehicles. DMRC allotted 663 e-auto permits in women quota and collaborated with ETO Motors and allotted 300 e-auto permits to introduce e-auto service at various metro stations in Delhi in phased manner. The launch of these e-autos will improve the last mile connectivity for passengers of nearby localities. ETO has launched E3Ws in Azadpur and Kalkaji metro stations and plans to extend its women fleet to 200 in the next three months.ETO Motors thrives on its 3E principles of Environment, Employment & Empowerment,where women power takes the driver's seat, offering a service focusing largely on the deployment of clean mobility services that are sustainable. To achieve this goal, ETO intends to identify and train 200 women drivers in Delhi in partnership with the Transport Department of Delhi, GMR Varalakshmi Foundation, School of Driving & Training Institute, Burari (DTI), Institute of Driving and Traffic Research (IDTR).
ETO Motors will be deploying it's Trilux L5 category passenger E3Ws that runs on a 7.37 kwh capacity lithium-Ion battery which charges to 100% in about 3.5 hours and runs at a maximum speed of 45 kmph. It can achieve a range of approximately 100 KM on a single charge. It boasts a unique topple-free design and comes with a built-in vehicle tracking system. It also has many 'industry first' safety features like driver and passenger seat belts and a bucket seat for the driver partners.
Delhi ranked 11th as the most congested city in 2021, there is a need for the electrification of public transport to enable India to transition to electric mobility. As the Delhi Metro gradually regains its pre-pandemic ridership levels, last-mile connectivity remains a key area.E3Ws have a huge growth potential and our launch at Kalkaji will mark a new phase of growth for the company. We have a target of launching 10,000 e-autos across India and under the Single Window Delhi EV policy ETO MOTORS is in the process of setting up 5000 charge point stations across Delhi over a period of 12 months.