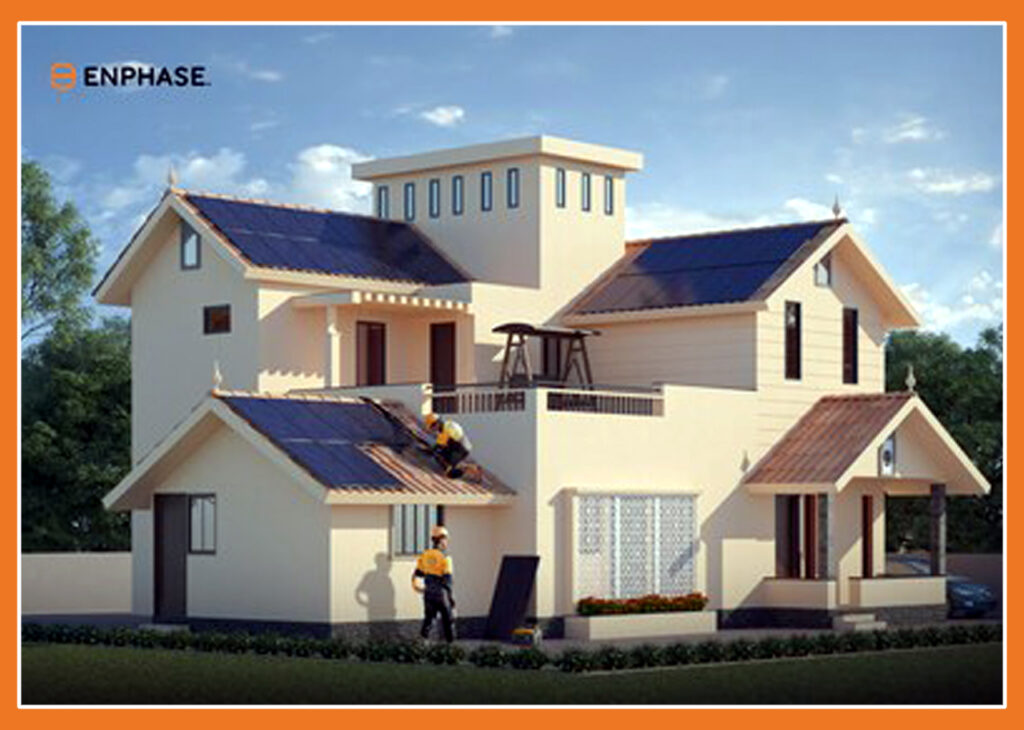 Enphase Energy, Inc., a global energy technology company and the world's leading supplier of microinverter-based solar and battery systems, today announced that it will be collaborating with Credit Fair, an India-based financial technology start-up. This collaboration will give Indian homeowners flexible solar financing option, access to best-in-class loan and financing terms, enabling them to finance a complete Enphase microinverter-based rooftop solar system via Easy Monthly Instalment (EMI) payments. Through Enphase's network of installers nationally, Indian customers can gain access to more affordable monthly payments for solar.
The latest collaboration will support the large network of installers of Enphase products in India, offering financing options to their customers. Solar power enables homeowners to better manage their electricity costs with affordable and abundant clean energy from the sun.
Enphase's India operations boast a state-of-the-art research and development centre in Bengaluru, Karnataka. The company manufactures IQ™ Microinverters, which are then supplied through a distributor network to third-party installers across India. These installers are spread across the country, and they install solar systems at end-customer buildings. The installation and after-sale services are handled by installation partners, who in turn, sell the solar systems directly to the end customers.
Mr Sunil Thamaran, VP and MD of Enphase Energy's India operations said
"As we continue to grow our presence in India, we believe that this novel financing initiative in collaboration with Credit Fair is a step in the right direction towards advancing solar adoption amongst customers. There is a growing awareness of the plethora of advantages that can be derived from solar energy. As a clean, renewable energy mode, solar scores high on the sustainability and ecological front. The key rationale behind this symbiotic association is to mitigate the risk of inadequate financing from becoming a major impediment to furthering solar penetration across India. Our mutual collaboration is a hallmark of the confluence of cleantech and fintech to build a green, sustainable future and unlock real value for installation channel partners and customers alike."
The key differentiator is Enphase's integrated solar systems that encapsulate microinverters, the IQ™ Gateway communications device, and the Enphase™ App, which can help reduce electricity bills by up to 90% in some cases. The Enphase integrated distributed architecture creates durable solar energy systems that can be conveniently extended to suit ever-expanding energy requirements.
"We are proud to partner with Enphase to extend green financing to solar rooftop users and simplify access to Enphase's high-quality rooftop solar solutions," said Vikas Agarwal, co-founder and CBO at Credit Fair. Exclusively available for Enphase customers across India, the credit line from Credit Fair may be utilized for all kinds of solar installations at both B2B and B2C sites, such as residential units, housing complexes, gated communities, trusts, independent houses, small factories, hospitals, schools, business establishments, commercial facilities and the likes.
Enphase microinverters come with powerful technological capabilities and high operational efficiency. The 'Burst Mode' technology enables microinverters to produce high power at dawn and dusk, as well as in low-light conditions. Also, the Enphase App provides homeowners with real-time data on energy production and consumption at a panel level, facilitating informed decision-making related to ongoing operations and maintenance.
Through this partnership, Enphase aims to enable homeowner/customer access to funding, enhance solar affordability, and facilitate access for Indian customers to the same superior quality Enphase-engineered microinverters that are available to their global counterparts.
Enphase Energy, a global energy technology company based in Fremont, CA, is the world's leading supplier of microinverter-based solar and battery systems that enable people to harness the sun to make, use, save, and sell their own power–and control it all with a smart mobile app. The company revolutionized the solar industry with its microinverter-based technology and builds all-in-one solar, battery, and software solutions. Enphase has shipped approximately 63 million microinverters, and approximately 3.3 million Enphase-based systems have been deployed in more than 145 countries.
(Source: www.prnewswire.com // If you have a press release or any major announcement that you want to feature on smart energy magazine portal or digital magazine then share your news to the editor on santosh.smartenergy@gmail.com)