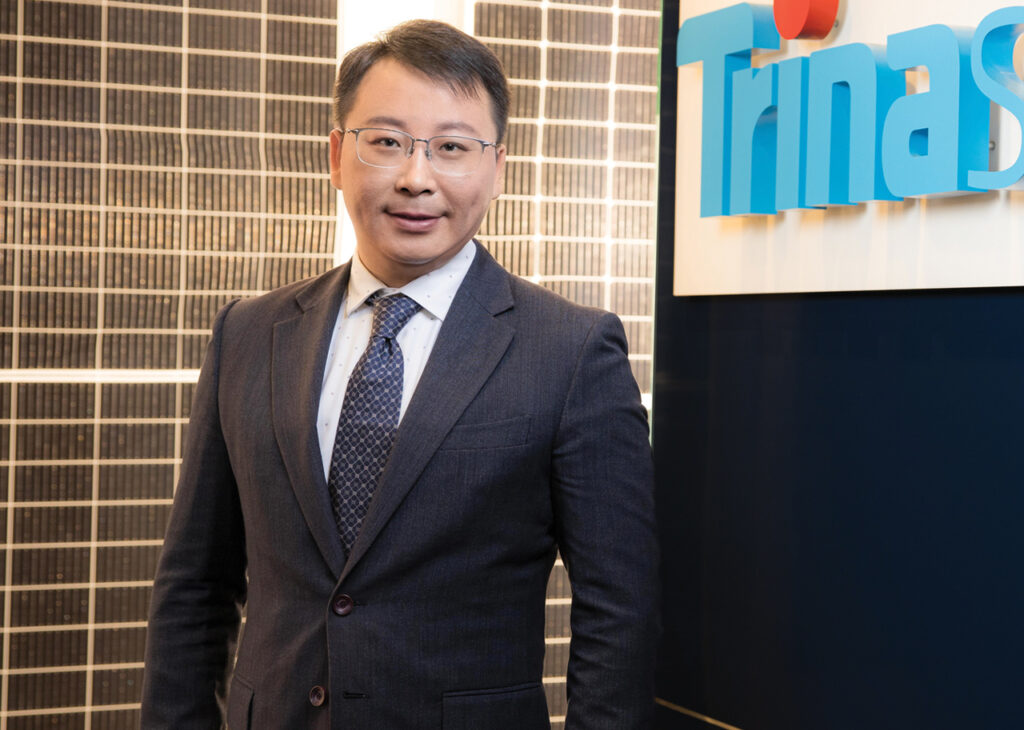 Todd Li is managing Trina Solar's overall business including the PV modules, TrinaPro, Trina Tracker, and system solutions segments in the Asia-Pacific (APAC) region. He is recognised by his team for his outstanding performance and great leadership skills. In this interaction with Smart Energy Magazine he speaks on Trina Solar's vision for a net zero future and how Trina Solar is driving its response to climate change with the help of technology, innovation and smart solutions. We will also discuss with him the role China & India playing in sustainable development and leading in transition to the net-zero world.
---
Q. Can you elaborate on Trina solar's vision for a Net Zero future?
Well, Trina solar's Moto since the company was founded 25 years ago has been "Solar Energy For All" and we have kept to that Vision. Our mission is to create a net-zero future by helping to de-carbonize the world through the adoption of solar energy.
To advocate a net-zero future, Trina Solar has been working to see that the manufacturing of modules is done sustainably through to the end of the product life cycle, which is why we have received the Life Cycle Assessment (LCA) certificate from TUV for our 210mm P-type modules.
Just as Mr Jifan Gao, Chairman of Trina Solar mentioned during the Bloomberg ENF Summit in Shanghai earlier in November 2022, building a global PV future will require innovation, collaboration, cooperation and support from other key players in the PV industry.
Q. How is Trina Solar driving its response to climate change with the help of technology, innovation and smart solutions?
At Trina Solar, we are committed to innovation and the improvement of our products. We understand the urgency for the world to work towards net zero. We are putting a lot of effort into research and development. Trina Solar has a strong track record of innovation. In the year 2022 we broke the world record for the 25th time by setting the n-type modules' actual efficiency at 24.24 per cent. We achieved these world records because we are at the forefront of new technologies in the industry.
In 2018, Trina Solar launched the Energy IoT brand, established the Trina Energy IoT Industrial Development Alliance together with leading enterprises and research institutes in China and the world, and founded the New Energy IoT Industrial Innovation Center. The R&D centre facilitates groundbreaking technology innovation and knowledge sharing through collaboration.
We believe that climate change is a pressing issue hence, Trina Solar is forging ahead by setting industrial standards with 210 P-type monocrystalline silicon PERC cells, and N-type cells and constantly improving the efficiency of its modules.
Q. Can you share more details on Trina Solar's association with the Science-Based Targets initiative (SBTi) and the Clean Energy for Earth campaign with World Wide Fund for Nature (WWF) China?
In 2021, Trina Solar formally joined the global Science Based Targets initiative (SBTi) contributing to the common goal of limiting global warming to 1.5 C. This once again emphasizes the company's commitment to help to limit the rise in the global temperature to 1.5 degrees through its actions to reduce emissions and the constant promotion of clean energy.
It also initiated the campaign Clean Energy for Earth with WWF China, to promote efforts to create a carbon-neutral future. We received tremendous support from many organizations and enterprises in China like IBM, PWC, ZTE, China Machinery Engineering Corporation (CMEC), etc.
On December 6 Trina solar co-hosted the launch ceremony of the Clean Energy for Earth campaign and the Clean Energy Development Forum.
It was noted that the International Renewable Energy Agency (IREA) predicted that clean energy such as wind and solar will account for over 75 per cent of the world's installed capacity by 2050.
Q. We have been discussing about climate change and a net zero world, what role do you envisage new energy like solar playing in the transition to net zero World?
Well, solar is a proven technology which is quickly and readily Deployable. It is also one of the most cost-efficient ways to set up. Solar is already playing a major role in helping the world to decouple. The power output and the efficiency of solar cell technology will continue to increase. We have already entered the 600W era of solar cell technology.
Q. Moving on could you quickly summarise Trina Solar's 25 year long journey of providing smart solar energy solutions to the world and its commitment to the ethos of sustainable development ?
10 years ago the power output of solar modules was about 290W and now we have modules that are 670W+ in power output. The huge increase in power output has been achieved thanks to new technology and innovations that we helped to develop. For example, we helped develop PERC Cell technology. We also pioneered the adoption of larger solar cells that use 210 technology. We have also emphasized lowering the carbon footprint of our module's lifecycle by obtaining the Life Circle Assessment (LCA) certificate from TUV.
Q. What role do you see China and India playing in sustainable development technology advancements, promoting solar and leading in transition to the net zero world?
China and India are two of the world's largest economies. Each plays a big role in leading the world to transition to a net-zero. China and India are two economies that have developed expertise in technology. For example, India is well-known for its expertise in Information Technology. Advancements in solar technology increasingly will rely on having people with software skills. For example, our smart tracker technology ensures the tilt of the panel is optimized to maximize the panel's light absorption and thus electricity generation, it relies on computer programs that analyze data in real-time from sensors.
India will play a very important role in sustainable development and technology advancements, thanks to the country's position as a leading global economy with a growing and technology-savvy workforce.
Q. Can you share your views on the current status of solar industry in India and the policy initiative taken by the Central Government in India in promoting solar?
Regarding the policies by the central government in India, I would like to quote my colleague Mr Gaurav Mathur, Director of Sales – Trina solar India saying and I quote, "Manufacturing of solar cell and modules in India is a positive development, but for India to succeed it needs to create an industry that is internationally competitive from day one. Implementing trade barriers, such as trade tariffs is not an effective way to develop a global business. It just leads to a higher price for Indian consumers."
The solar industry in India is looking very promising. As of November 2022, India has installed a total of 61.96 GW of solar power generation and is ranked fifth in solar power generation in the world by the BP Statistical Review of World Energy. Trina Solar alone has delivered more than 8 GW of solar modules to India and much more to come. With India's local manufacturing growing, backed by the support of government incentives and policies, in the coming years India's supply chain will become more competitive compared to the other manufacturing hubs in Asia.
Q. Finally can you share Trina solar's roadmap and the role it envisions to play in future?
We believe achieving carbon neutrality consists of four critical elements. The first is to intensify efforts to develop PV power generation, the second is to speed up the development of energy storage technology ,the third is to digitise energy and the fourth is to develop ultra high voltage Network.
The international renewable energy agency forecasts that installed PV capacity will reach about 14000 GW by 2050. As a world leading PV company, Trina solar is resolute in its mission to promote the industry's entry into the 600W+ era and the all round applications of PV modules meeting the LCOE oriented principle, that is solar modules featuring high power, high efficiency, high reliability and high energy yield helping to reduce LCOE. The new generation PV products based on 210mm technology platform and N-type TOPCon cell technology that we recently released in a seminar hosted by Bloomberg ENF in London have further reduced the LCOE for PV power stations and promoted the Continuous growth of renewable energy.
One way to dealing with a world of uncertainties and a constant change is openness and cooperation and that is something Trina solar strives for. After 25 years of dedication, the company will continue to strive to develop products of higher value, provide better Solutions and work with global partners to build a complete and well-developed PV ecology and lead the world in achieving carbon neutrality.