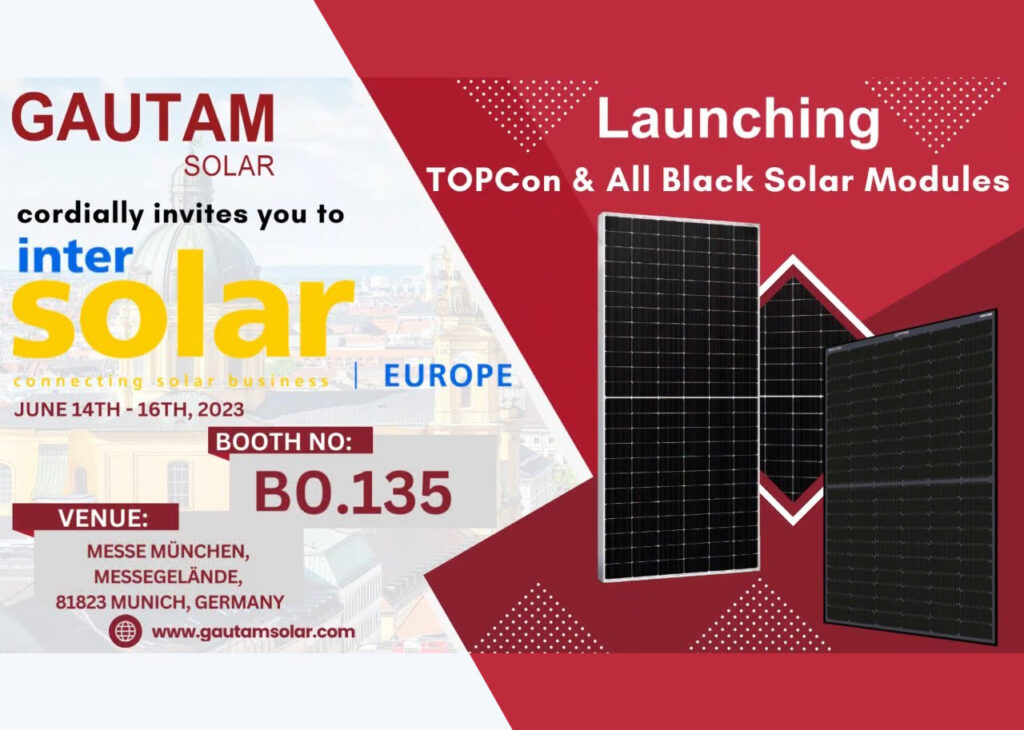 Solar manufacturer Gautam Solar has launched N-type TOPCon (Tunnel oxide passivated contact) and Mono PERC Solar modules at Intersolar Europe, a leading exhibition for the solar Industry.
Gautam Solar has launched the TOPCon solar modules in two ranges, 420 Wp-435 Wp for distributors, EPC, developers in residential, commercial & industrial (C&I) segments as well as 565 Wp-580 Wp for utility scale and large C&I customers.
The N-Type TOPCon technology was first developed by German institute Fraunhofer ISE. The benefit of TOPCon solar modules is that they generate more power than P-type modules, while maintaining the same size and hence, provide more energy per unit area. Additionally, lots of research is being done in TOPCon, as a result of which, its efficiency is progressively increasing compared to that of Ptype, whose efficiency limit has saturated.
Getting more power in same area makes it a great investment for Residential, Commercial & industrial (C&I) owners, who have a fixed rooftop space and hence can generate more solar energy in the same rooftop area. For utility scale developers and large-scale C&I customers, it can help generate more power from the same land area. These modules are compact in size and easy to handle during both transportation and installation. As a result, these modules result in reduced breakage rates and lower labor costs.
Gautam Solar's 420 Wp-435 Wp TOPCon solar modules are available in four variants: all black, silver frame, glass-to-glass bifacial and lightweight bifacial. Notably, these solar modules have area under 2 m2, in compliance with local requirements. The all black solar modules incorporate black back sheet and black anodized aluminium alloy frame, in stark contrast to the conventional design with white back sheet and silver anodized aluminium alloy frame. Glass-to-glass bifacial modules provide up to 10-30% gain from the rear side. Together, N-Type TOPCon and bifacial technology can combine to give 37% more power. The firm says that lightweight bifacial modules incorporate high quality transparent backsheet, which ensures good rear side power while keeping the weight of the module low, thereby preventing handling issues. These feature 108 half-cut cells based on M10 wafer.
Gautam Solar's 565 Wp-580 Wp solar modules are ideal for utility and large C&I projects to help generate more power. These modules feature 144 half-cut cells based on M10 wafer.
Similarly, Gautam Solar's newly launched 400-415 Wp mono PERC modules are also available in all black design. This will ensure customers get sustainable and clean energy without compromising on the aesthetics of their properties, informs the firm.
All the said modules incorporate rigorous processes, automation at factory level like round ribbon usage for better light utilization, non-destructive cell cutting for higher reliability, lower chances of micro-cracks and half-cut cell technology for better low-light performance. The optimum module size using M10 cells ensures maximum space utilization in a standard 40 ft. container during transportation.
"Gautam Solar has long been heralded as a technologically driven brand with its strong R&D base. The company has multiple Intellectual Properties (IPs), including patents and design registrations to its name. The launch of our N-type TOPCon and all black solar modules is in line with our proactive approach. Europe is an important market for Indian Solar Module Manufacturers and our new products with higher efficiencies are ideal for Europe." said CEO of Gautam Solarn Gautam Mohanka.
The new advanced modules are being manufactured at the company's modern manufacturing facilities in India.